Almost two full years after an EF-3 tornado ravaged the city of Ruston under the pitch black cover of darkness in the wee hours, tragedy has turned to triumph.
With the construction of new fields as well as additional facilities that will support the Bulldog Baseball, Lady Techster Softball and Lady Techster Soccer programs, opportunities for philanthropic gifts led directly to new naming rights.
From corporate sponsors to individual families, Louisiana Tech is blessed with "bleed red and blue" stakeholders who believe in the University's mission and strongly support its student-athletes.
This support has made recovering from the devastation a grand slam instead of a Hail Mary.
"After the 2019 tornado, our campus – in particular the baseball, soccer, and softball facilities – was devastated," said Dr. Les Guice. "The support from our community, our state, and organizations has helped our University recover."
Thanks to a philanthropic donation from Jim and Margaret Davison, the new softball field will be named in honor of Dr. Billy Bundrick, the highly-decorated orthopedic surgeon who has given more than 40 years of his professional career to his alma mater.
"Dr. Billy Bundrick has been a steadfast supporter of Louisiana Tech since his days on the football field," said Guice. "Seeing him work with our student-athletes to help them stay healthy has been a highlight of my time at Tech, and I can think of few better ways to honor his legacy than this."
Louisiana Tech has honored Bundrick in just about every conceivable way over the past four decades, and he has more than earned each one. The resume of the Bulldog football letter winner (1957-59), team captain, and longtime LA Tech team orthopedic doctor (1973-2013) is loaded with accolades from both the University and athletics.
Although he first made a name for himself playing for legendary coach Joe Aillet and the Bulldogs, Bundrick has spent more than half of his life taking care of Louisiana Tech's student-athletes.
In addition to donating countless hours to Louisiana Tech, Bundrick has supported the University and its athletic department financially. He and his wife Linda are members of the Team Tech $1 Million Lifetime Giving Club, an elite membership that includes less than 15 couples who have each given more than $1 million during their lifetimes.
"Louisiana Tech has meant everything … to me and my family," Bundrick said. "It's a real honor (to have the stadium named after me). It's a real honor. The field is going to be great. All of the new facilities are. This is just a special honor."
Bundrick was enshrined into the Louisiana Tech Athletics Hall of Fame as part of the class of 1986. He has earned numerous other honors, including the Louisiana Tech Alumnus of the Year (1980), the Distinguished Alumni Award for the College of Life Sciences (1986), Centennial 100 Distinguished Alumni (1994) and Tower Medallion recipient (1995).
He served as the University Foundation Board President (1981-83) and was a Privileged Director of the Foundation Board (1986-87). He received an honorary doctorate in 1984.
"As the University was seeking assistance in the development of a state-of-the-art sports complex for our softball team, Jim and I were thrilled to help," Margaret Davison said. "When (Vice President for University Advancement) Brooks Hull mentioned the naming of the soccer field in memory of Dad's good friend, Dr. Caruthers, I knew this was the perfect opportunity to honor dad for a lifetime of dedication to Louisiana Tech."
Dr. Billy Bundrick Field sits just west (less than 50 yards away) of Dr. Robert Mack Caruthers Soccer Field, the new home for the Lady Techster Soccer program. The announcement of the naming of the soccer field came in October 2019 following a gift from Tim Cutt (1983, Petroleum Engineering) and his wife Carolyn in honor of the former Petroleum Engineering professor.
Cutt, who was named a 2015 Distinguished Alumnus for the College of Engineering and Science, and his wife decided to honor his former professor by helping to rebuild and upgrade the facility for soccer.
"Dr. Caruthers was a humble leader who cared deeply for students at Louisiana Tech," Cutt said. "He believed in me – seeing potential in my future that I didn't recognize then – and offered consistent encouragement so that I could achieve that potential. Throughout my educational journey, he challenged me to greater leadership and involvement in class as well as with extracurricular activities."
Caruthers made a profound impact on countless students, and his influence helped inspire Guice as well.
"Dr. Caruthers helped inspire all of us in the College of Engineering and Science, and he made a great impact on thousands of students in the classroom and the lab," Guice said. "By focusing their gift on the creation of athletics facilities that help our student-athletes attain the highest level of athletic and academic performance while bringing greater national visibility to our institution, Tim and Carolyn are honoring an important member of the Tech Family. Their leadership in this endeavor is a wonderful legacy for the whole campus."
Caruthers was a long-time engineering professor at Tech, who led the University's program in Petroleum Engineering and Geosciences. After serving Tech students for nearly 30 years, from 1967-95, he passed away Oct. 3, 2016.
Cutt said he and Carolyn saw a need on the Louisiana Tech campus, and they knew that Caruthers was the perfect individual to honor by helping rebuild "a facility that will inspire young women to exceed their personal goals in both sports and life."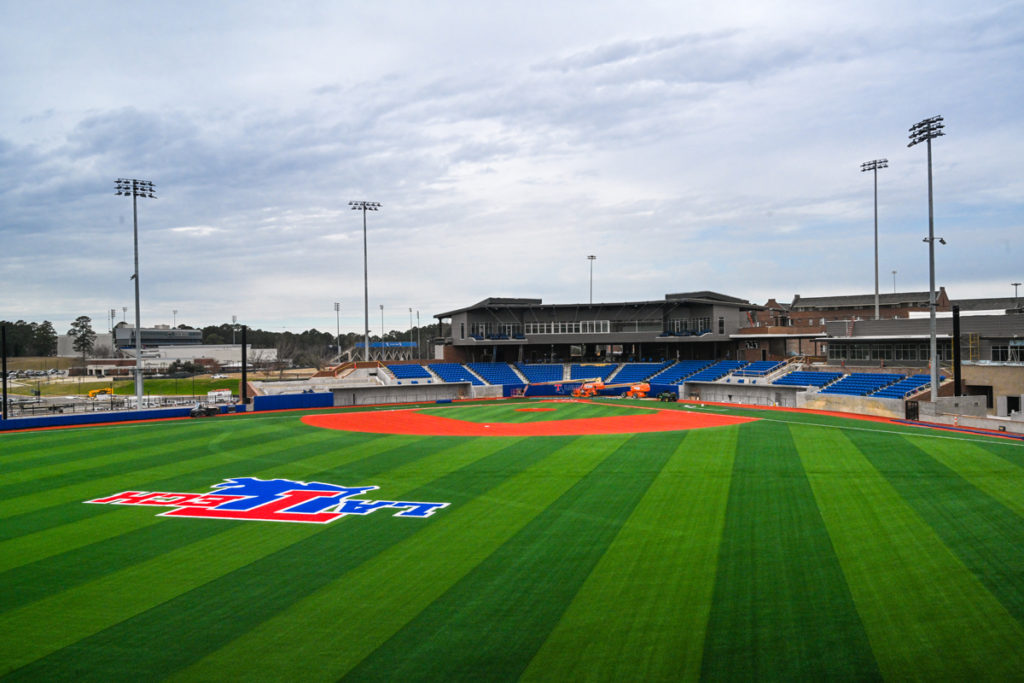 Origin Bank, the official bank of Louisiana Tech Athletics, also provided a significant philanthropic gift in support of both the new baseball and softball/soccer complexes.

With the gift, Origin Bank joined the Louisiana Tech Athletics lifetime giving society of "Team Tech $1 Million" and continued their commitment to both the University and its student-athletes. Origin Bank becomes the first business to meet this threshold – all others in this philanthropic society have been individuals or families.

"I want to thank Drake Mills and Lance Hall and the entire Origin Bank Family for their unbelievable support of our student-athletes and coaches," said VP and Director of Athletics Dr. Eric Wood. "Their level of financial support impacts these complexes in a first-class manner. Not only will the facilities be game changers for these three programs, but they will also help enhance the student-athlete experience as they compete and represent our University at the highest level."

The Origin Bank Baseball Complex will include coaches' offices, locker rooms, team meeting room, player lounge, hitting facility, suites, state-of-the-art sports medicine area and more.

"Origin Bank has been committed to Louisiana Tech for generations and that commitment is stronger than ever," said Drake Mills, chairman, president and CEO of Origin Bancorp, Inc. "The benefit that Louisiana Tech provides this region, our state, and the entire country is so evident, and we are proud to continue to support the University's long-term vision."

In addition, the softball and soccer teams will now be housed in the Origin Bank Soccer and Softball Complex, a state-of-the-art home for both programs that sits between the new softball and soccer fields. It includes coaches' offices, locker rooms, team meeting rooms, player lounges as well as a premier sports medicine area.
"Whether it be in the classroom or on the playing field, Origin takes pride in our partnership with Louisiana Tech," said Lance Hall, president and CEO of Origin Bank. "We have been a long-term supporter of Louisiana Tech as well as their athletic programs, and this donation to the women's sports complex and the baseball program will provide opportunities for our student-athletes to be successful for years to come."